If you have a website, a blog, or any other kind of presence on the internet, Google has a way to monetize it. It's called Google AdSense, and it's a program that tries to make everyone a financial winner: Advertisers get new clients or sales through the Adwords program, Google gets money to serve those ads, and you get money when people click on them.
Using internet search technology, Google will serve ads that are relevant to the specific content of a web page. For instance, if someone is on a web page that's covering the latest golf tournament, Google will serve ads for golf clubs or golfing attire. If you own that site, you get paid every time someone clicks on one of those ads. This is usually called Cost Per Click (CPC) advertising.
How It Works
If you currently have a blog or website that gets 100,000 visitors every single month, that's more than 1 million every year. Consider how that relates to potential ad revenue:
You have 100,000 ad impressions (views).
You have a click-through rate (CTR) of 1%, which is standard.
1% of 100,000 is 1,000.
If the CPC of the ad is $0.01, you make $10.
If the CPC of the ad is $1.00, you make $1,000.
There's a big difference between the two, and obviously, most ads do not payout at the $1/click rate. You are more likely to see a rate somewhere between those two, which adds up to possibly hundreds of dollars each month. The more obvious and widespread the keyword of the ad, which is what triggers the ad itself, the lower the CPC—and that is information you can use.
Tips….
When advertisers pay Google to run ads for their businesses (with the Google AdWords program), they can opt to include their content on Google's Display Network. If they do, their ads are eligible to show up in the "AdSense slots" on participating websites.
If AdSense is active on your site, you'll get to decide where these slots are placed. Then, Google will runs ads in those positions, based on what your site and content are about. The system is designed to automatically find businesses that are a good match for your niche and audience.
The result is that your ads are more likely to be clicked on than if you displayed random advertisements. In turn, you're likely to receive a higher payout. Of course, the boosted income isn't the only benefit of using AdSense. The inclusion of highly-targeted ads can also help you provide a more tailored service for your customers.
Plus, the Google AdSense process is largely automated – saving you a lot of time. What's more, it's completely free to join. This makes it a perfect option for small businesses.
Naturally, you'll need to set Google AdSense up before you can start receiving the benefits. Fortunately, it's a relatively simple process.
First, you'll need to sign up for an AdSense account. If you have a business Google account, you can use that. You'll then need to provide some contact information – including your payment address and telephone number.
Once that's all sorted out, you can create your first ad. Navigate to Ads, and select Ad Units. You can then click on +New ad unit:
Next, you can pick the kind of ads you'd like to use:
The Text and display ads option will give you access to as many ads as possible, so let's use that as an example. On the next page, you can choose a name for your ad:
Your audience won't see this name, so try to pick something descriptive and easily identifiable. From there, you can set the ad's dimensions, although it's safest to stick with one of the recommended sizes.
You can also customize the optional settings however you'd like, in order to tweak your ads further. When you're done, click on Save and get code at the bottom of the screen. This will save your ad settings, and provide you with a unique code: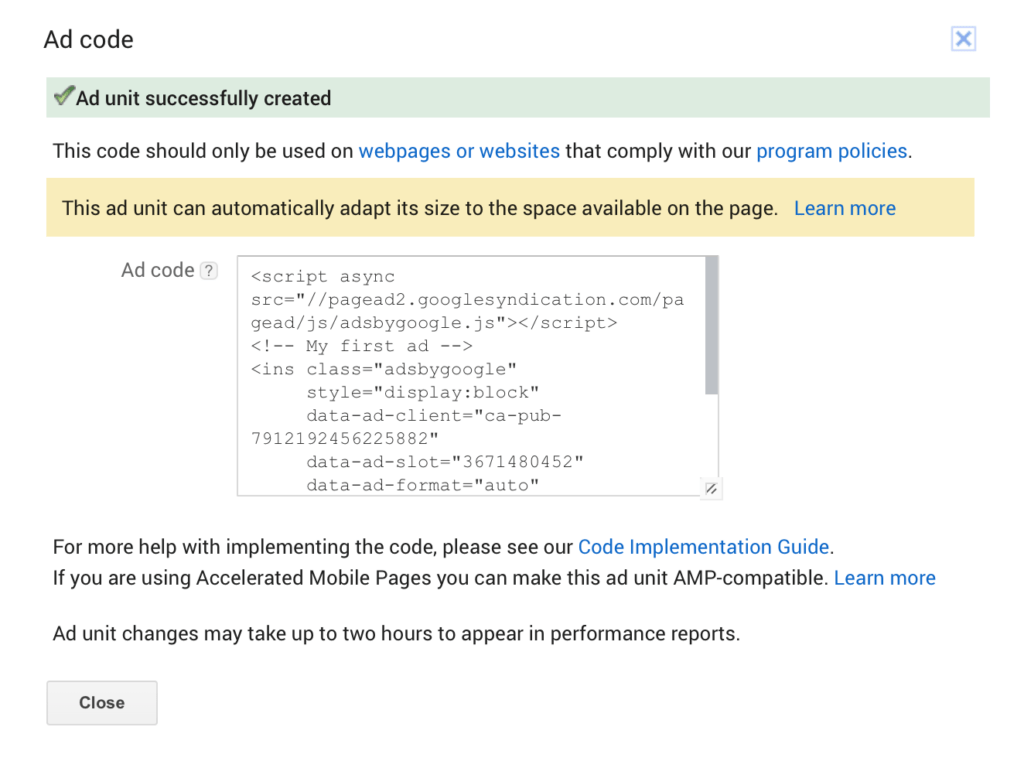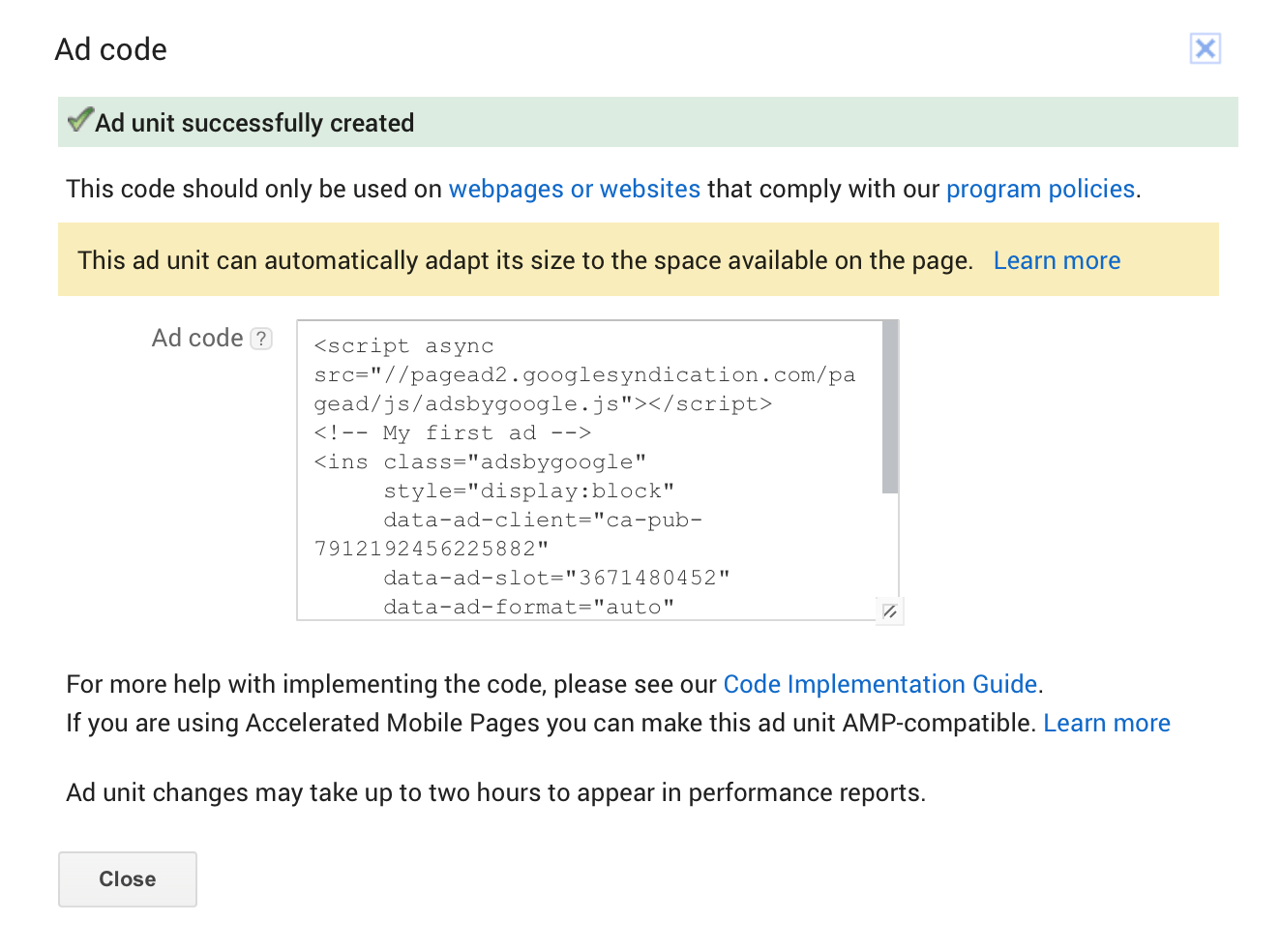 After that, all you have to do is add this code to your WordPress site. The exact steps you'll take depend on where you'd like your ads to be displayed. The sidebar is a particularly effective position, so we'll add ours there.
To do the same, navigate to Appearance > Widgets in your WordPress dashboard. You can then add a Custom HTML widget by dragging one into your site's sidebar: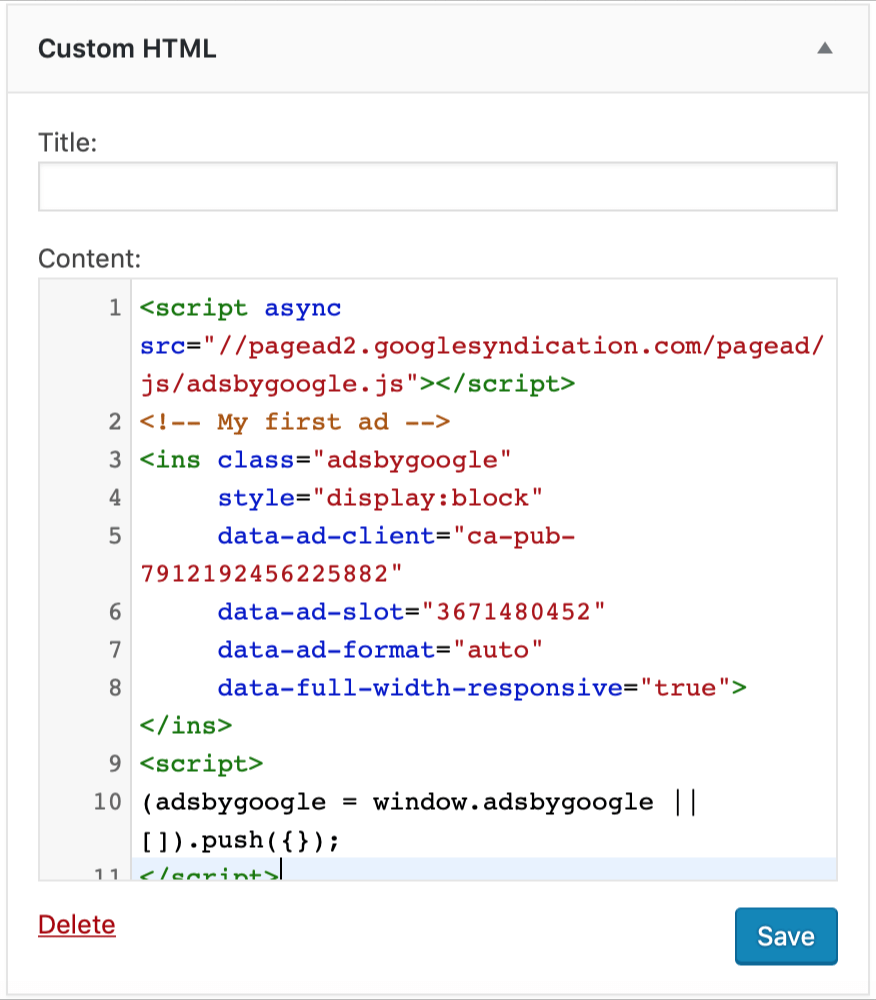 All you need to do next is paste in the ad code and save the widget. Of course, don't forget to check out what your ad looks like on the front end:
The code will access all the relevant information from your AdSense account, and start displaying ads of the appropriate size and type. You can always go back to your account and adapt your ad as needed, and you can add as many additional ads as you'd like.
2 Ways to Maximize Your Google AdSense Earnings
Now that you're set up with AdSense, the real work can begin. While this program can be incredibly beneficial to your website, you'll want to adopt a few key strategies in order to get the most out of it.
1. Place Your Ads Carefully
Ad placement is a key area for consideration, since various placements can yield different results. Displaying ads in 'priority' areas can increase the likelihood that users will interact with them.
There are a number of placements that are considered effective – such as right below the initial heading of a page's content, or in the middle of an article. To make the decision a little easier, Google AdSense released a heatmap of ideal locations:
Regardless of your chosen placement, it's important to always bear the AdSense program policies in mind. Failing to do so could result in a ban on your account.
Above all, it's also vital to ensure that your ad placement won't affect the user experience of your site. In other words, avoid overloading your pages with ads, as visitors are likely to find that strategy off-putting. A few ads per page can go a long way.
2. Create Quality Content
Google AdSense bases the advertisements it places on your site on your content's focus. So if you want ads that are appropriate to your audience, you'll need to create well-targeted content.
To achieve that, you'll want to have a clear target market in mind. While this is something you probably decided on when initially creating your website, it's important to adjust your focus as your business continues to grow.
There are many different ways of doing this – but one of the best is to create a clear buyer persona. This will enable you to carefully define your ideal customer, and then craft content that suits their needs.
If you take your time with this process, Google AdSense will be able to provide ads that are more relevant to your website's content. Those types of ads are more likely to be clicked on by users, boosting your income as a result.
Maximizing Income
Whether you want to make money off the blog or website you already have, or you want to create a blog with the sole purpose of making AdSense money, there are several ways you can increase your revenue:
Use search engine optimization (SEO) writing to maximize the keywords in your content.
Write more. The more you write about your subject, the more keywords you have for Google to search and feed ads to.
Write often. More content is everything, and the fresher the better.
Post useful, accurate content. When you post garbage filled with keywords, it is difficult to read and doesn't bring people back. You want your site to be sticky, so it generates traffic.
Find a niche. Talking about football is good, but thousands of people are doing it. A less popular topic such as movie soundtrack collections is another story.
Don't create too much bad traffic. It's easier than you'd think to create a lot of website traffic, but if it's not qualified, and people aren't there to read your content, then it will be a flash in the pan. It also affects your CTR.
Make use of Google Analytics. Google gives you free tools to assess your website to make a profit.
Competitor Ads
One of the biggest issues you face when you start running ads on your site is the competition. Depending on the kind of site you run, you could find that ads start being served that are in direct competition with what you are selling or offering. For example, if you have a site dedicated to drop shipping a certain product, perhaps Disney toys or snow globes, you suddenly could see ads for those products directing your visitors away from your site. This is not good for business.
Can anything be done about this? Yes. Google anticipated this very issue and allows you to block content from up to 200 different URLs. However, it's a little tricky to know who to block until you start seeing those ads show up. Even worse, you may never see those ads because of the way Adsense serves up the content.
Also, as an Adsense user, you cannot click on these links directly to see where the ads are being directed to. It's a clear violation of the rules of using Adsense, but you can right-click on the ad if you're lucky enough to see it and discover the link or URL to block. This depends on a little luck.
Perhaps the best way to create a list is to search Google for the kinds of products or services you are selling, and note the top 50 different URLs that come up. That's a good way to block ad traffic from sites that clearly are in competition with you.
How to measure ad performance
Generating money from Google Adsense depends on three important factors: the CPC, CTR, and RPM.
CPC, also known as cost per click, refers to the amount of money you will receive if your visitors click on your ad.
As publishers, you have no control over how much you will receive for each click on your ad. It ultimately depends on the competition in your domain's niche that dictates the pricing, which could also change over time. Nonetheless, you can attract the best possible ads for your site using tactics that will be discussed in a different section below.
On the other hand, CTR or click-through rate refers to the percentage of visitors clicking on your ads while on your site.
CTR is important if you want to earn from Google Adsense truly. While CPC determines how much you will earn, you have very little control over the variables that determine the costs of the ads that will appear on your site. Your CTR is highly dependent on controlled variables or tactics that you can use to increase your ad performance which will also be discussed later.
Both metrics help you make sense of your RPM or revenue per 1,000 impressions. Impression describes the activity that takes place on the site and server every time an ad is fetched.
To compute the RPM, you need to divide your estimated earnings by the number of impressions (how many times an ad was seen on your website) and multiply the quotient by 1,000.
Measuring your potential earnings through RPM reveals to you the bigger picture that CPC and CTR can't show. Essentially, RPM is showing how much money you make per visitor.  Ultimately, it doesn't matter if your site is showing low-paying ads. The important thing is that you optimize your ads for increased performance and higher revenue.
Different ad options
Since you need to get people to click on your ads to make money, Google Adsense offers different ad options that you can show on your pages.
Text – Also known as "sponsored links," the ads will appear as one or two lines of text format which may include the title of the ad and the physical address (for local businesses).
Display ads – The ads will appear in graphic format. You can choose from different sizes for your display ads, which will depend on where you wish to place it on your page.
Rich media – The ads will appear in HTML, Flash, and video format.
Animated image – The ads will appear as dynamic images. To show this on your site, you need to enable image ads.
Link units – They will show a list of topics related to your content. Once your visitors click on them, they will be directed to a page of Google ads related to the topic. You can only make money from this ad type if visitors click on the ads after clicking on the list of topics.
Among the different ad options to choose from, Google confirmed that the best performing units  are the following:
336×280 large rectangle
300×250 medium rectangle
728×90 leaderboard
300×600 half page
320×100 large mobile banner (on mobile)
How to keep your Google Adsense account from getting banned
Below are other practices to avoid so you can keep your Adsense account and earn money from their ads:
Click on your ads – It doesn't count if you as site owner click on your ads in the hope of making money. People in your home clicking on your ads is also a violation. Even if you use a proxy to hide your IP address, there's a good chance you will get caught.
Hold ad-click contents – This method is a form of begging for clicks, which is against Google policy. Desperately asking for people to click on your ads compromises not only the advertisers but also your site.
Manually alter the code –  If you want to make changes to your Google Adsense code, do it from the Adsense platform. Do not tweak the appearance of the ads by editing the code yourself. Google wants to observe ad performance based on the changes made from Adsense. Alterations made outside of Adsense prevents Google from effectively tracking their progress, thus making it a violation.
Enlist robots to click ads – Using robots or any automated tool to gamify the system for the purpose of inflating your earnings is illegal. You are also prohibited from using human-generated clicks or trading clicks with other publishers.
Create site specifically for ads – Part of Google's mission is to promote sites that provide valuable content on their site. If your site is thin on content and is merely used to showcase ads, then you are risking yourself from getting banned.
You can view more policy violations by clicking here.
Finally, and most importantly, your earnings also depend on the amount of targeted traffic to your website. You can choose the most expensive niche and pick the best placements for your ads, but it doesn't make sense if nobody comes to your website or blog. Keep in mind that only a very small number of your visitors will click the ads (there are no official statistics from Google, but usually webmasters report that 1% to 2% is quite a good CTR). Most probably, the clicks will bring you less than $1 per click. Now you can calculate yourself how much traffic you need to earn the amount you want. Therefore, if you want to make money with AdSense you should have large volumes of traffic. This will require a lot of work and a lot of unique and quality content.
This means that it is always reasonable to create a website on a topic you know a great deal about. It will be much easier for you to generate a lot of quality content and this work will be pleasurable. Do not expect to make $1,000 per month with a 10-page website. It is recommended to create at least 20-30 pages of content before you start working with AdSense.
Summary
Briefly summarizing, you can make pretty good money with Google AdSense, but it is not a program where you can get rich quickly. There are some common sense rules to follow that will help you lay the groundwork for high and stable earnings:
Love the topic you are writing about and know a lot about it.
As well as producing unique and relevant content, do it on a regular basis to make Google aware that your website is being updated constantly with fresh information.
Do not try to cheat Google with any kind of "artificial" clicks.
Do some research to find the most profitable niches in terms of CPC and search demand. Build your content plan according to these insights.
This will help you to get a lot of traffic and monetize it with AdSense.
Is Google Adsense Free?
Yes. It doesn't cost anything to put Adsense on your site.
Adsense doesn't have a money cost, but it does have a space cost. It takes up space on your website and makes your site look a little worse. Some people don't have display ads at all.
It depends on what you want your website to look like and how you want your brand established. There aren't many people who I would tell to not apply to Adsense. The worst case scenario is that you decide to not put ads on your site, but it's good to have the option.
The best case scenario is that you could make 5 or 6 figures per month with display ads. That's a no brainer for me!
I'd say yes, Google Adsense is worth it.
Yes. It is 100% legit.
Wrapping it all up
AdSense is a great monetization option, but it's not a get-rich-quick or make-money-doing-nothing program. Further, Google has rules that some bloggers seem to miss when reading the terms of service. As a result, many website owners have found out the hard way that they'd violated a Google policy and have lost their account forever.
There's a reason why Adsense remains one of the most popular ad networks where site owners can make a living.
With a steady iron hand in Google that lays down the rules on how ads must be served to your audience, you can guarantee to be compensated well as long as you continue to provide value to your visitors with your site.
Therefore, if you want to make money with Google Adsense, then take the tips and strategies above to heart and apply them to your website today.
If you have questions about how to make money with Google Adsense or comments about the post, please share them below. If you love the article, feel free to share.🙂